Up near Helen Georgia is a great twisty road known as the Richard Russel Scenic Parkway. There are some scenic valley views and it is a heck of a fun drive in a sports car. There are at least two major waterfall destinations. Dukes creek falls, which is a relatively easy hike with wide pathways and a singular water fall that is spectacular to view.  The second area known as Raven Cliff is about the mid point on the parkway and is more of a hikers trail. The narrow path meanders along a small creek which has at least 3 small scenic falls over the 2.5 mile journey to "the Wall".  At the end of the path one is confronted with a large exposed granite wall with a narrow slit cut in it by a sliver of water over time. During dry seasons there is almost no water flowing into the slot, but after a rain the water shoots and dances off the sides of the slot wall. During the winter months you can get up to the top of the wall and travel further up stream.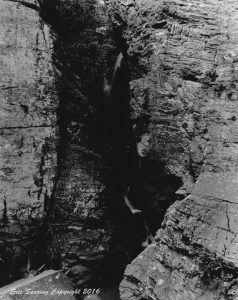 I was there during August on a comfortable 75 degree day after it had rained some. About 10:00 a.m. there was some light from the top left side of the wall that lit up the slot slightly. The textures in the wall were beginning to stand out. I began setting up my camera and was taking my meter readings when a couple decided they needed to stand where my camera was to take their I-Phone photos. Shortly afterward a large group of unruly teenagers showed up hollering and standing in front of my camera. Somehow I managed to find a window to take the shot between groups. An older woman nearby expressed interest in the camera and engaged me in conversation for a few minutes, but then asked if I could email her the image I just took. When I explained it was a film camera (as if the bellows did not give  her a clue) she looked confused. I was tempted to take a shot with my I-phone and email it to her. I packed up and started the hike back to the car, but did stop and photograph some of the smaller falls on the way back. The five mile round trip was exhausting yet exhilarating knowing I had captured some interesting sites.
The image sat in the film holder for a few weeks before processing and printing. After developing the negative I could tell I had captured what I wanted. The negative had a nice glow about it and was well placed within the 5 stops of brightness in the scene. Printing the image is effortless and has the right look at grade 2. I finally felt like all the years of study and practice had come together for this one image, and it would be what would drive me forward and cemented my love of the 4×5 film format. Not everyone is able to identify this as a waterfall which is also why it holds interest for me. The textures on the granite cliff form a sort of abstract that can be explored in addition to hunting for the water.
Technical – Ilford FP4+ (rated iso 80), Ikeda Anba 4×5, 90mm Schneider SA, F32, 3sec, Developed in HC-110 1:31 @72 degrees for 5.5 minutes.